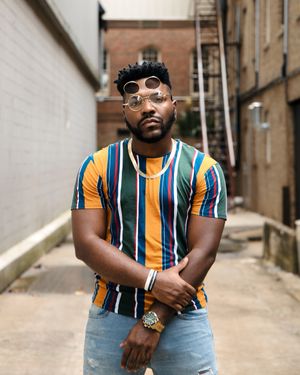 WHO IS ALEXANDER FRE$CO?
James Villes, known as ALEXANDER FRE$CO, is an American rap artist and photographer from Jackson, MS. ALEXANDER FRE$CO gains influences from TRAVIS SCOTT, RICK ROSS, BIG SEAN, DRAKE, A$AP ROCKY, & BUSTA RHYMES. With the song "WTF I NEED" he captured his audience and hit the ground running.
Born and raised in South Jackson, FRE$CO began to take an interest in music and photography when he entered middle school in 2003. As time progressed he began to gain influences from BET, MTV & VH1 music videos and wanted to be apart of the magic. He began to write songs up until his freshman year in college, in 2009, where he began to record music and come out of his shell. 
As his confidence grew, so did his fanbase, and in 2015 he began to take his music career more serious. He decided to rebrand himself and began his come up into the music artist he is today. In 2018 he dropped a R&B project called "NEON NIGHTS". With visuals to match FRE$CO continued to grow his artistry and directory skills as he began to direct and edit his music videos. With songs like "WHATCHU WANNA DO" and "I WANT YOU" FRE$CO began to showcase his talents on both ends.
ALEXANDER FRE$CO's latest project, "THE SHOW",  is focused towards Hip Hop/ RAP. With songs like "RUN IT" and "NEW KID" began to take the same approach as he began to roll out the project. Both projects are available on all streaming platforms.
ALEXANDER FRE$CO was runner up for BESTOFJACKSON
2019 for best HIP HOP ARIST/ GROUP
2020 for best R&B ARTIST/ BAND.